From The Guardian Newspaper (UK)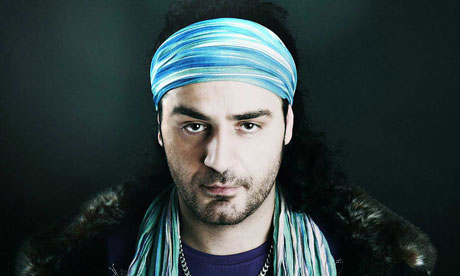 Iranian rapper Shahin Najafi. A death sentence was issued against the rap artist after he released a controversial song called Naqi
Photograph: Ay Collection/Sipa/Rex Features
An Iranian rapper has become "the Salman Rushdie of music" after clerics in the Islamic republic issued fatwas calling him an apostate, which is considered punishable by death under the country's sharia law.
Shahin Najafi, a Germany-based Iranian singer, recently released a song with references to Ali al-Hadi al-Naqi, the tenth of the 12 Shia Muslim Imams, a religious figure highly respected by millions in Iran.
The controversial clip posted on Youtube, watched by hundreds of thousands online, has divided opinions in the country with many finding it offensive and insulting to their beliefs and others defending the song, saying it broke taboos especially in regards to expressing views about religious personalities.
When asked for a religious ruling on the fate of Najafi and his "blasphemous music", clerics unanimously declared that such a person must be considered an apostate.
According to the semi-official Mehr news agency, Ayatollah Naser Makareme Shirazi, a pro-Iranian regime cleric based in the holy city of Qom with a great deal of influence among Muslims in the country, was the latest person to issue a fatwa in regards to Najafi.