From St. Louis Post-Dispatch
By Tim Townsend | January 13, 2012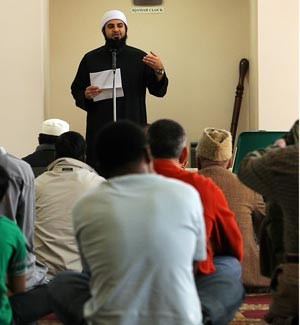 Asif Umar leads a prayer service at Daar-Ul-Islam mosque on Friday, Jan. 6, 2012, in Ballwin, Missouri. Umar was recently named the new Imam of the mosque.
Over the last decade or so, Asif Umar has practiced an unusual Ramadan tradition. The 27-year-old St. Charles native, who started last week as the new imam at the largest mosque in the area, celebrates the end of Islam's holiest month by going to a Blues game with his buddies.
"He's a sports junkie," said Umar's friend Nauman Wadalawala, a third-year law student at St. Louis University. "Whenever we go to a Cards game, he always has to wear his Pujols jersey. It's interesting to see this religious scholar, sitting in good seats, with his beard and Cardinals jersey."
Umar, whose parents came to the United States from India in the 1970s, is the first native St. Louisan to lead the Daar-ul-Islam mosque, also known as the Islamic Foundation of Greater St. Louis. He also represents the ascendence of a distinctly American brand of Islam, a new generation of Muslim-Americans who were born in the United States and who spent their teenage years in the often uncomfortable glare of the post-Sept. 11 spotlight.
Immigrant parents of American-born Muslims who once insisted that their children become doctors and engineers have begun relaxing those expectations for a new crop of young Muslim-American scholars who feel drawn to be faith leaders, said Yvonne Haddad, a professor of the history of Islam and Christian-Muslim relations at Georgetown University.
"We're beginning to have larger numbers of American kids going into Muslim studies and become imams," Haddad said. She noted a new trend in ads recruiting imams, which once asked for overseas experience in places like Egypt, Saudi Arabia or India.