By Arsalan Iftikhar
December 10, 2011
Exclusive | The Crescent Post
According to the Religion News Service (RNS), the national hardware chain called Lowe's has pulled commercials from future episodes of TLC's new reality television show called "All-American Muslim" after letter-writing campaigns by some right-wing evangelical conservative Republican Christian groups.
The Florida Family Association- a right-wing evangelical group based in Tampa- has led a campaign urging companies to pull ads on "All-American Muslim" calling it "propaganda clearly designed to counter legitimate and present-day concerns about many Muslims who are advancing Islamic fundamentalism and Sharia law."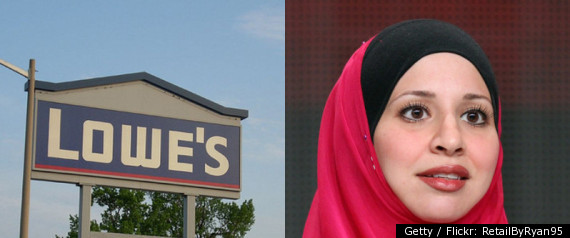 For those of you who have not seen TLC's new show, here is a 90-second preview below:

In response to the growing controversy, Lowe's Home Improvement stores offered this weak explanation (and non-apology) on their Facebook page as to why they removed their advertisements from the TLC show:
It appears that we managed to step into a hotly contested debate with strong views from virtually every angle and perspective – social, political and otherwise – and we've managed to make some people very unhappy. We are sincerely sorry. We have a strong commitment to diversity and inclusion, across our workforce and our customers, and we're proud of that longstanding commitment.

Lowe's has received a significant amount of communication on this program, from every perspective possible. Individuals and groups have strong political and societal views on this topic, and this program became a lighting rod for many of those views. As a result, we did pull our advertising on this program. We believe it is best to respectfully defer to communities, individuals and groups to discuss and consider such issues of importance.

We strongly support and respect the right of our customers, the community at large, and our employees to have different views. If we have made anyone question that commitment, we apologize.

Thank you for allowing us to further explain our position.
Wow…Nice try, Lowe's.
What an absolutely terrible response. As you can see from their statement above, they said in the aforementioned statement that individuals and groups have strong political and societal views "on this topic" which caused them to remove their commercials.
Excuse me, Lowe's. Exactly what 'topic' are you talking about in the statement above? Muslims?
In the year 2011, do we live in a country where an entire minority demographic group in America can now merely be seen as a dehumanized 'topic' that can be the cause of a national corporation casually removing their commercials from a television show because of right-wing nativists trying to fan the flames of xenophobia?
What if this right-wing group were mobilizing against Latino, African-American, Jewish or gay people?
Would Lowe's have buckled under the pressure and removed their television commercials?
Don't worry…I'll wait for you answer…
In the meantime, we should all go shopping at Home Depot instead of Lowe's for our home improvement needs.
Arsalan Iftikhar is an international human rights lawyer, author of Islamic Pacifism: Global Muslims in the Post-Osama Era and global managing editor of The Crescent Post in Washington DC.